As politicians gathered at the UN High-level Political Forum to report on their country's progress against the global goals, the need for a strong businesses contribution to the 2030 agenda came under the spotlight as well.
Two years after their adoption, the Sustainable Development Goals (SDGs) have become the universal vocabulary of politicians and business leaders alike. Back in July, while ministers gathered for the UN sessions, around a thousand business leaders met across the street at the SDG Business Forum, to discuss the role of the private sector in delivering the 2030 agenda.
Such interest is hardly surprising; by one estimate, business opportunities related to the SDGs could generate a staggering 12 trillion USD in revenues and savings.
Beyond the buzz
The SDG Business Forum not only symbolised the momentum behind the global goals, but also the need for businesses to clarify their part in meeting the SDGs with greater consistency and credibility. The twitter feed of the International Chambers of Commerce, which features 'SDG claims' of individual companies, is just one example illustrating how companies which showcase their SDG contribution should ensure such claims are backed up by robust evidence or concrete targets.
Given the tsunami of SDG messaging, it is not surprising that the question of how to measure and assess 'real' or 'credible' business contributions to the 2030 agenda has come to the fore.
The hope is that improving corporate reporting, following specific reporting standards such as the Global Reporting Initiative, will allow for a more objective understanding of how companies are contributing. However, while corporate reporting is an explicit target under the SDG framework (Goal 12), this in itself does not mean companies are increasing their positive impact on the 17 goals or their 169 targets. Moreover, as Steve Waygood from AVIVA Investors pointed out at the Business Forum, more sustainability reporting is fine, but what if nobody reads it?
Calling for collective business action
Increasing corporate reporting is not a guarantee that companies will address the SDGs where it matters most: in their own supply chains.
WWF and ISEAL set out their vision in the 'SDGs means business' report, stressing that market transformation is an essential driver of lasting, cross-country progress on a range of SDGs. The report identifies the role of credible multi-stakeholder standards and roundtables as one important tool enabling such structural processes, as they provide concrete guidelines and metrics to address the environmental and social issues captured in the global goals. In doing so, these initiatives provide platforms for collective action within sectors and supply chains.
Various influential players recognise the need for such collective action, and the use of credible 'SDG-relevant' standards and roundtables to help achieve this. A new report on the 2030 agenda for the Dutch Ministry of Foreign Affairs identified voluntary market standards as key tools for SDG cooperation within industries and supply chains.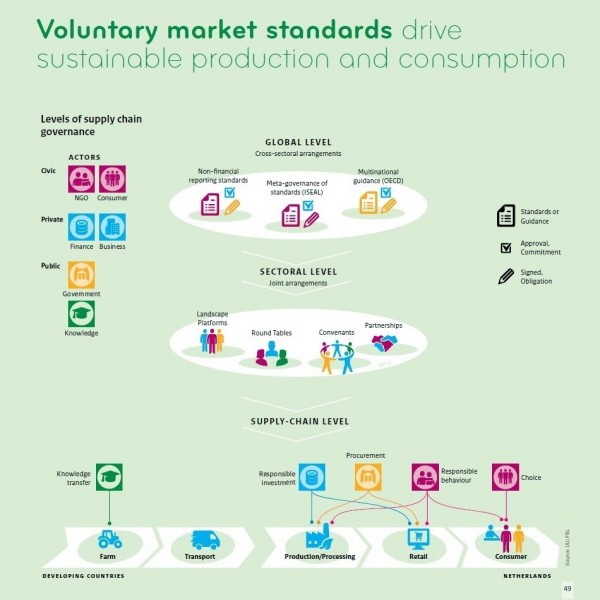 Similarly, a new report for the Business and Sustainable Development Commission, a group of SDG-minded business leaders headed by Unilever's Paul Polman, stresses the need for industry-wide coalitions. It notes that such initiatives can spread common standards and goals for sustainable development, and they will be far more effective than any individual action. The report recognises a range of ISEAL standards and other 'vanguard' initiatives which have already demonstrated their potential for transformational change.
Credible sustainability standards as SDG indicators
Apart from the Dutch government, other governments are considering going beyond 'corporate reporting' as they develop national SDG monitoring frameworks. For example, Germany's 2030 strategy adopted the national target of 'Making consumption environmentally and socially compatible' using the 'market share of goods certified by independently verified sustainability labelling schemes' as an indicator. In the UK, NGOs have been pushing the government to develop similar measures based on progressive adoption of credible sustainable practices by companies.
Because they are transparent, practical, and market driven, standard systems are useful building blocks for developing detailed 'SDG roadmaps' for businesses. In its flagship report, the Business and Sustainable Development Commission called for such roadmaps at sector- or industry-levels, as individual companies cannot face the sustainability risks alone.
Because they provide a way to monitor progress in a harmonized manner, credible standard systems are also relevant for banks and investors looking to develop SDG performance metrics. This is linked to an emerging priority for finance actors to account for 'ESG' factors (environmental, social and governance) and not just look at balance sheets. This logic has recently been put into practice by the World Bank when it issued its first SDG-linked bonds.
Looking ahead
Two years in, much still needs to happen if the SDGs are to become truly instrumental in scaling up private sector action in a meaningful way. Without solid commitments and objective measures that go beyond corporate reporting itself, the potential of the 2030 agenda to mobilise and harmonise business efforts will be lost.
There are still many possibilities available to avoid this. Building on existing multi-stakeholder initiatives within sectors, or integrating compliance with a credible standard system as part of SDG monitoring, are obvious starting points. Clearly, the use of collective standards is only part of the solution; a range of actions are needed to transform markets and supply chains so they contribute to the SDGs.
The good news is that many business leaders, governments and NGOs are increasingly aware of the possibilities and scenarios.
One thing is certain; while individual companies should do all they can, it is only through collective action that the 2030 agenda can be achieved. Mutually agreed sustainability standards are increasingly recognized as an important, if not crucial, part of this discussion.